Creator; Kevin Williamson
Thriller
52 minutes
Seasons 1 & 2 are streaming on HBO (Sweden)
I am 100% certain that I've found a new favorite tv-show, slightly heartbroken though that only two seasons are streaming so far, two great seasons that I managed to binge in less than a week.
I. need. More. A little obsessed? Yes. But it is brilliantly made, I was devoured by the dark and twisted outcome of some of the beloved fairytales that I enjoyed as a child, such as The 3 little pigs, The little red riding hood, Beauty and the Beast, Sleeping Beauty, and Cinderella – as I grew older, so did my desires to re-watch them in a darker, sinister, and dare I say a disturbing point of view, and my wishes were answered. Tell me a story takes known fairytales and delivers a modern and corrupted story based on the tales we already are so familiar with, and it was done so damn well.
It kind of reminded me of American Horror Story, where each season is a different story, however, bringing the same actors to play different roles in different seasons.
It is not exactly like the tales you remember but you will not miss the resemblance, they've just added pieces of the real world, real problems, with a dash of grief, love, and anger.
It is a thrilling, exciting, and close to phenomenal psychology thriller worth every minute of your time, even though it starts rather slow at the beginning.
I must point out though that the second season was my favorite, and way more fast-paced than the first one.
The acting is great, but I L O V E D seeing Paul Wesley in this darker role, and he played them both (season 1 & season 2) so beautifully. The vamp-stamp is gone, and as much as I loved him as Stefan Salvatore and was #TeamStefan, I'm overjoyed to see him shine in more diverse roles and new projects because he's too talented to be stuck in a box!
And oh, how I've missed seeing Kim Catrall, no one can play a role such as "Samantha Jones" as perfectly as that woman has done, but it was a joy and thrill to see her in something new & Billy Magnussen was superb.
Amazing cast, and cannot wait to see (hopefully) all of them return in season 3.
Compelling, entertaining, and dark. Don't miss it! 8/10
Posted in TvShows/DocumentariesTagged HBO, Review, Tell me a story, Tvshow
Director; Doug Liman
1h 58 minutes
Comedy/Romance/Crime
Streaming on HBO

A movie involving Covid-19 was bound to happen sooner or later, a quite big experiance that we've been through, and it was only a matter of time before writers would start creating stories and scripts regarding it – a way to work and stay active during our "new normal".

Locked down, played out in England with a couple who is going through a separation at the worst possible time, when London goes through a locked down, and due to some surprising opportunities gets to collaborate once again together – pulling a heist at a department store.

Though it was categorized under "comedy" I might've laughed once, well, it was more of a slight smile at a comment or expression, but never a full on laugh. I found it slow, dull, and too long considering that nothing happens until the very end of the film.
It was innovative, a great idea, but it lacked the comedy aspect of a life in quarantine such as when you start walking on each others nerves perhaps, the mental breakdowns of being trapped inside the same four walls, I don't know, I felt it was missing something, but considering there hasn't come out a new movie in what feels like ages, it was quite okay. 5/10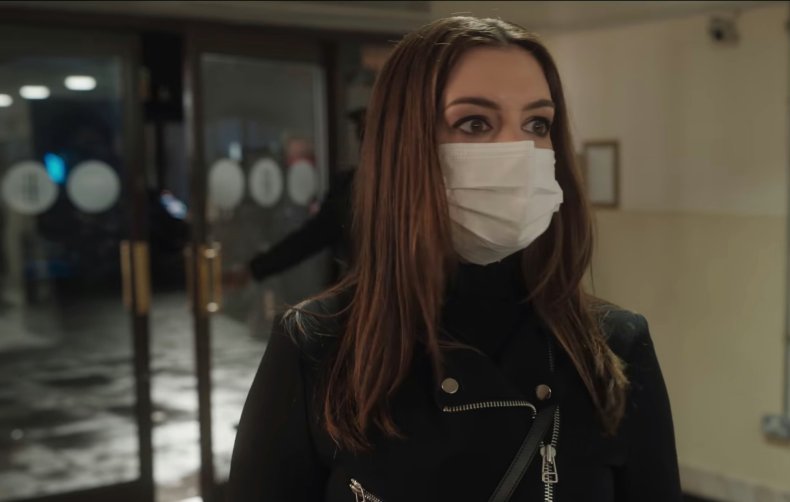 Creator; Steve Yockey
Drama/Mystery
45 minutes
First season streaming on HBO

The pilot was slightly entertaining enough to keep me somewhat hooked – wanting to see and know more of it. Though it falls under the category of comedy as well as drama and mystery, I haven't laughed at all so far, the jokes are kind of tamed and dull, I was mostly stunned by the main character who drank way too much.
Seems like the writers are too lazy or out of ideas on what special trade to add to the characters she plays, because in The big bang theory we see Penny practically holding a glass of wine on every episode, and here her vice of choice was the bottle of vodka, causing a lot of trouble yet she didn't seem eager enough to put the drinking aside.

Some scenes becomes annoying, frustrating, and irritating because of the sorry to say imbecil flight attendant who gets wasted constantly and sleeps with the passangers. There's no wow factor to the show, it's purely stupidity that sadly will turn this show into a collosal fail.

Cassie Bowden (Kaley Cuoco) a flight attendant who wakes up in a hotell in Bangkok after a long night of partying, only to find a dead man sleeping right beside her, without any memory of what happened she's now on a hunt to find answers.

Would I recommend it? Probably not. Will I continue watching it to see the outcome of the show? Yes. 4/10

All pictures are from Google.